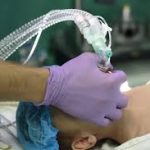 Maryland Medical Malpractice Lawyer Tom Kemp has a long standing history of handling medical malpractice claims on behalf of family members who have suffered the loss of a loved one. He represents clients throughout all of Maryland in all types of medical malpractice claims. If you have lost a loved one due to the negligence of a doctor, nurse or other medical professional, contact an experienced medical malpractice lawyer at The Law Office of Kemp & Kemp by dialing (410) 398-0910. Mr. Kemp has earned a reputation for providing only the highest quality legal representation, and work every day to put the "personal" back into personal injury law.
Serving all of Maryland including Anne Arundel County, Montgomery County, Frederick County, Worcester County and Prince George's County, Maryland.
Medical Malpractice Causing Fatal Injuries
When medical professionals fail to take adequate precautions and perform their duties in a negligent manner, their patients may suffer fatal injuries. A wide range of medical errors can contribute to the fatal injury of patients. Common causes of fatal injury include:
Birth delivery errors
Delayed diagnosis of cancer
Failure to diagnose a heart attack
Emergency room errors
Surgical errors
Anesthesiologist errors
If you have lost a loved one in Maryland due to medical negligence, you have a right to receive compensation for your loss. Maryland Wrongful Death Attorney Tom Kemp is deeply committed to holding medical professionals, hospitals and other medical service providers responsible for their negligence and wrongdoing.
Contact A Maryland Medical Malpractice Wrongful Death Lawyer
Maryland Wrongful Death Attorney Tom Kemp handles all medical malpractice claims on a contingency fee basis, so you pay no fees or costs unless he recovers compensation for you. To schedule a free consultation and case evaluation with a Maryland Medical Malpractice Lawyer Tom Kemp call (410) 398-0910. You can also contact Mr. Kemp by e-mail here. We promise you'll receive an honest and straightforward look at your case from one of our attorneys. Let us help you get to a better place.
Mr. Kemp serves the entire state of Maryland including Ocean City, Salisbury, Annapolis, Glen Burnie, Bethesda, Rockville, Frederick, Olney, Upper Marlboro, College Park, Landover, Baltimore, Towson, Bel Air, Aberdeen and Elkton, Maryland.