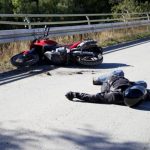 In the state of Maryland motorcycle accidents are very common, especially during the warmer months. These accidents can result in very serious and life threatening injuries. If you have been injured in a motorcycle accident in Maryland, even a single bike accident, you may be entitled to benefits and financial compensation. You need the help of a Maryland motorcycle accident attorney handling all types of motorcycle accident lawsuits including single bike accidents, dangerous roadway accidents, drunk driving accidents and intersection accidents. The Law Offices of Kemp & Kemp handles all types of personal injury cases, they offer free consultations and charge no fee unless they recover for you. 
With an office in Elkton, MD Mr. Kemp serves traffic accident victims in all of MD including Aberdeen, Annapolis, Baltimore, Bel Air, Bel Air North, Bel Air South, Cherry Hill, North East, Perryville & Rising Sun.
Common Injuries Sustained In Motorcycle Accidents
– Soft Tissue Injuries
– Fractures
– Dislocations
– Sprains/Strains
– Permanent Scarring/Disfigurement
– Loss Of Use/Paralysis
– Wrongful Death
Contact An Elkton Personal Injury Lawyer
Cecil County Accident Attorney Tom Kemp competently handles motorcycle accident cases. If you have been injured due to negligence contact Mr. Kemp at (410) 398-0910 for a free consultation.
Mr. Kemp is a skilled Maryland trial attorney who has the knowledge and resources to get you the full amount of compensation and benefits for your injuries.