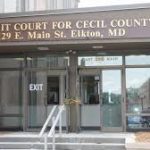 Moving on after an accident resulting in serious injury often times involves more than just physically recovering from the actual injuries. There can be a plethora of items and issues with which you must contend. Examples are police reports, insurance companies, medical bills, damage to your vehicle, missing work and more. With more than 30 years of experience handling accident, injury and medical negligence claims in Maryland Cecil County Injury Attorney Tom Kemp is devoted to providing his clients with personal relationships that are founded on clear, open communication. His legal career began in criminal law, where he developed the tenacity needed to aggressively pursue the best outcome possible for his clients.
"After an accident, it is essential that the attorney you hire is experienced and willing to do what it takes to get you the compensation you deserve." — Attorney Tom Kemp
Choose A Competent, Experienced Cecil County Accident Lawyer
Attorney Kemp has represented thousands of injured individuals throughout the state of Maryland. He works with a wide range of catastrophic personal injury claims, including:
Auto Accidents
Medical Malpractice
Personal Injury
Premises Liability
Trucking Accidents
Wrongful Death
He also helps clients who are victims of medical malpractice through surgical injuries and birth injuries. In cases where an accident or act of malpractice has ended in wrongful death, Cecil County Injury Attorney Tom Kemp will work tirelessly to obtain the best results possible for you and your loved ones.
Negligence cases can be brought in state courts throughout Maryland and under certain circumstances in federal courts. Mr. Kemp is admitted to practice in all state courts as well as federal courts in Maryland. He has also tried cases in Pennsylvania and Delaware.
Contact Cecil County Injury Attorney Tom Kemp For A Free Consultation
The firm's Maryland personal injury lawyer offers home and hospital visits and evening and weekend appointments to those in need. His clients will only have to pay case investigation costs if a recovery is made. To learn more about how Kemp & Kemp can help, call 410-398-0910 or email the firm.