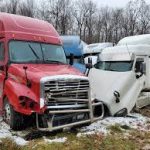 Accidents involving a truck take the severity of the situation to a new level. The size of the vehicle is typically directly related to any injuries. There are also many other factors that must be considered when navigating a truck accident personal injury claim. The lawyer you choose to represent your case should have the experience and drive needed to allow you to focus on healing while he or she fights to get you the compensation you deserve. Kemp & Kemp was founded in 1955 by William Kemp on the premise that communication is a major contributor to the outcome of a case. By consistently keeping in touch with the firm's clients, its attorneys have been able to procure the best results possible.
"It is important to me that my clients know that their case is in good hands. A big part of physical health can be directly related to mental health. I work with my clients to give them peace of mind so they can focus on healing." — Attorney Tom Kemp
Choose A Detail-Oriented Harford County Truck Injury Attorney
Attorney Tom Kemp has more than 30 years of experience tenaciously representing thousands of clients in a variety of cases. As a personal injury attorney he has tried more than 100 civil jury trials throughout Maryland. He is not afraid to take his cases to court if he believes his clients aren't getting the compensation they deserve.
Maryland is one of four states in the U.S. that makes use of contributory negligence. That is, if a judge or jury finds that you were negligent in the accident in any way, you could be barred from earning any recovery.
If you were involved in an accident involving a commercial vehicle, Mr. Kemp will investigate the scene of the accident, the police report, the truck driver and his or her record, and more to determine liability. By being as thorough as possible, Mr. Kemp is able to help his clients along the road to recovery.
Maryland Trucking Accident Lawyers
A very serious type of motor vehicle accident that usually results in catastrophic injury or death is in Maryland is a trucking accident. The sheer size and weight of most commercial vehicles dictates that victims rarely walk away unscathed. If you, or a loved one, have been injured in any type of commercial vehicle accident you need an experienced personal injury attorney who handles trucking accidents in the Cecil County and Harford County areas.
Elkton Auto Accident Attorney Tom Kemp has been handling all types of trucking accidents, tractor trailer accidents, commercial vehicle accidents and large delivery vehicle accident cases throughout Maryland for many years. He has consistently provided outstanding legal representation to accident victims, their families and their loved ones.
Truck Accident Attorney Focusing 100% On Litigation
Mr. Kemp focuses his personal injury and motor vehicle accident practice totally on litigation. That is a very important attribute as it demonstrates his devotion to helping accident victims. Many accident cases resolve in the form of a settlement and while he may initially attempt to obtain a settlement for your injuries and damages he will also take your case to trial if needed. Mr. Kemp handles all types of commercial vehicle accidents including, but not limited to:
Trucking Accidents including semi-trucks, logging trucks and tanker trucks.
Mass Transit Accidents including buses, school buses and trains.
Commercial Vehicle Accidents including delivery trucks, delivery vans, UPS and FedEx trucks & cable tv vans.
Emergency Service Vehicle Accidents including police vehicles and ambulances.
Unsecured Cargo Accidents including debris and cargo flying off of or out back of trailers.
Intoxicated Truck Driver Accidents including any type of non-privately owned vehicle.
Total Cost Of A Truck Accident Claim
Being an experienced Harford County Auto Accident Attorney Mr. Kemp and his staff are aware of how important it is to determine the true and total value of your claim. Current medical expenses, automobile repair or replacement costs, pain and suffering costs are only a portion of the compensation you may be entitled to. As your attorney Mr. Kemp will also take into consideration factors such as future medical costs, lost income due to missing work, possible long term care costs, therapy costs, life skills retraining expenses and medication costs. This is all in an effort to get you the true and total amount of compensation you and your family are entitled to under Maryland trucking accident law.
Contact An Elkton Lawyer For A Free Initial Consultation