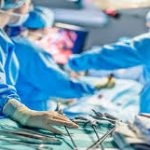 Everyday in the state of Maryland thousands of surgeries are performed in various hospitals, same day surgery centers and cosmetic surgery facilities. These surgeries can be cosmetic, elective, medically necessary and even emergency surgeries. While under the care of a surgeon, physician assistant or healthcare umbrella organization it is assumed that even with risky surgeries you will be taken care of and your doctor and their team will do their best to safely complete the procedure. This is not always the case however as sometimes accidental surgical errors may occur which can have drastic effects on your life. If you have been the victim of medical malpractice, medical negligence or a surgical error it is important that you speak with Maryland Surgeon Negligence Attorney Tom Kemp regarding your rights, protecting those rights and how he can help you get the benefits you are entitled to according to Maryland medical practice law.
Mr. Kemp serves those injured due to the negligence of another in the Elkton, Bel Air, Chestertown, Aberdeen, Annapolis and Baltimore, Maryland areas.
Types Of Surgical Errors
There are a plethora of surgical errors that can occur during surgery. Some common examples are:
Performing Incorrect Procedure
Performing An Unnecessary Procedure
Poor Technical Execution During Procedure
Leaving Instruments In Body After Procedure
Unnecessary Infection After Surgery
Anesthesia Or Medication Errors Pre-Op And Post-Op
Operating On Incorrect Body Part
Repercussions Of Surgical Errors
Being the victim of a surgical error can change your life forever. An incorrect or unnecessary procedure can leave you hospitalized much longer than needed. You may require additional surgeries to repair the damage done during the initial surgery. Some times, serious illness such as infection or even wrongful death can result from a surgical error in Maryland.
Determining Liability In A Surgical Error Case
There may be numerous parties or entities that may be legally responsible for your injuries sustained in the surgical error. The doctor and medical team, including the anesthesiologist, physician assistant and nurses may be held liable. The hospital or medical facility, its parent or umbrella company may also be liable. In the case of a defective medical product or device the manufactured can be responsible. A skilled medical malpractice attorney handling surgical error claims will identify any liable parties and make them accountable legally.
Contact A Medical Malpractice Lawyer
It makes sense to consult with a skilled attorney as soon as possible after your surgical complications or injury. Cecil County Injury Lawyer Tom Kemp will work on your behalf and make sure that your legal rights are protected while you focus on getting healthy again. He will strive to get you the full, fair and just compensation for your pain, suffering, lost wages and all other means of compensation you are entitled to.